Suunto Vyper Novo Wrist Top Computer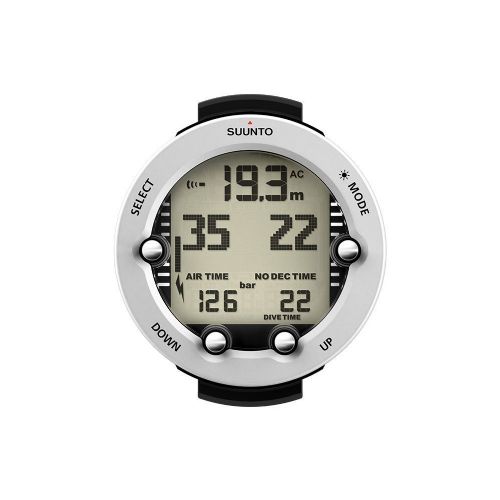 9%
Free Shipping*
Brand:
Suunto
Category: Dive Computers
More Details
A reliable, nitrox-capable wrist dive computer with optional air integration, the Suunto Vyper Novo wrist dive computer (without a USB cable) is designed for advanced divers. With its capacity to provide a correct reading even at a 45° angle, its 3-D compass will quickly become your new best friend and simplify maintaining your heading. You can tune the Suunto Vyper Novo for three gas mixtures in 1% increments for nitrox mixtures (21-99% oxygen) if you utilize enriched air nitrox (EAN).
5 modes and optional wireless air integration
Digital compass and gas switching
Suunto RGBM

| | |
| --- | --- |
| Measurements | 71.2 x 71.2 x 29.5 mm / 2.8 x 2.8 x 1.16" |
| Weight | 134 g / 4.73 oz |
| Bezel material: | Composite |
| Glass material: | Acrylic |
| Case material: | Composite |
| Strap material: | Elastomer |
| What's in the box? | Suunto Vyper Novo Graphite, display shield, warranty leaflet, safety leaflet, quick guide, and Sunnto logo sticker |
Optional wireless air integration - current cylinder pressure, remaining air time
Integration tilt-compensated 3D digital compass
Gas-switching between up to three gases (Oxygen up to 99%)
Detailed graphics logs and dive data on your PC/Mac using Suunto DM5 software
Full continuous decompression algorithm - Suunto RGBM
Five modes: air, nitrox, gauge, free and off
Innovative apnea timer for free diving, and a timer in air/nitrox modes
Built-in dive planner
The Suunto Deep Stop GRBM algorithm, which provides continuous decompression reading adn an ideal ascent time, is used by the Suunto Vyper Novo dive computer. Suunto wants to keep you secure. With his in mind, they incorporated the deep stop option into the Suunto Vyper Novo. the deep top option adds additional stops between the diver's maximum depth and ceiling for divers to off-gas while climbing safely. The diving logbook memory on the dive computer is 42 hours.
For dive time, maximum depth, tank pressure (optional), high pO2, quick ascents, decompression ceiling violations, CNS/OUT (OLF) 80%/100%, and switch gas, the Suunto Viper Novo gives audible alarms and notifications (better gas is available).
The back-lit display on the Viper Novo makes it simple to see your dive statistics during the day and night dives.
The Suunto Viper Novo provides a depth display of 100 metres (330 ft). Its clock can be set with a 12 or 24-hour format, plus it includes temperature reading above and below the surface to 1°C (1.5°F) accuracy and is altitude adjustable up to 3,000 metres (10,000 ft).
The computer can be programmed for Nitrox mixtures from 21% to 99% oxygen and displays oxygen partial pressures from 1.2 to 1.6 bar (17.4 psi to 23.2 psi).
A user-replaceable 3-volt CR2450 lithium-ion battery powers the Suunto Viper Novo.
The Viper Novo includes an expanded segment matrix screen, outstanding contrast, and information with more significant and more explicit digits for depth, no-decompression, etc., as well as a redesigned 4-button interface for more straightforward, more intuitive diver use. The computer can be configured to measure in imperial feet or metric meters.
Several diving modes are available on the Suunto Vyper Novo, including Air, Nitrox 9up to 3 mixes), Gauge, and Free Dive. A brief guide and owner's manual on DVD is included with the PC.

Please note that some products may be delayed due to a global shortage of dive computers. Contact us at (02) 9665 6333 for updated information.