Suunto D5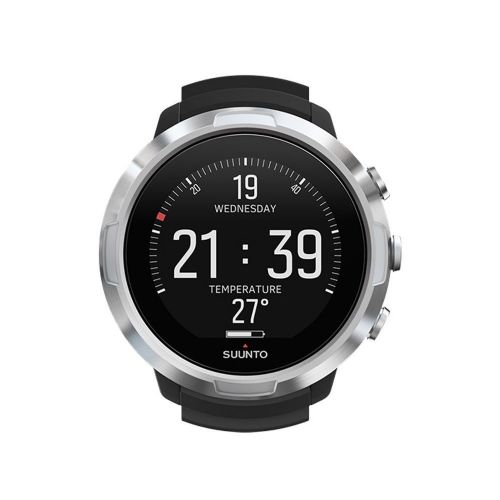 Brand:
Suunto
Category: Dive Computers
Details
The Suunto D5 dive computer with colour screen, bluetooth and vibration alarms is here! With its easy to read screen, light weight and intuitive menus, the D5 is set to be another winner in the already impressure Suunto D-series!

Hook up your new D5 to your phone via bluetooth and instantly share your adventures with your friends. Add dive information to your photos to really tell the story of your dive and upload your photos to social media via the Suunto App!
Switch between watch, dive, nitrox, gauge and freediving mode and customise your alarms by choosing on-screen (colour coded), vibration and audible alarms in different scenarios.
Add a transmitter for wireless air integration through up to three Suunto Tank Pods and keep an eye on your location with the 3D compass providing all the navigational information you will need.
Change your style daily by switching strap colours and materials with Suunto's quick release strap system! The standard silicone straps are available in eight colours, but you can also choose a Zulu textile strap, urban leather straps and athletic straps for outdoor activities!
The computer comes with a built in Li-ion rechargeable battery. Simply recharge your battery on the go with the included USB cable. The battery will last up to 12 hours in dive mode and up to 6 days in watch mode.
Conclusion:
It's light weight (90 gr), has a colour screen and can be worn as stylish sporty every day watch! With its easy to use interface it can be used by beginners as well as advanced divers. Suunto finally merged their fitness watch social media features with their dive computers with the new Suunto App and with the rechargeable battery, you will never have to return it for a battery change!
Features:
Quick release strap system
Full colour screen with transflective screen technology
Bluetooth compatible (wirelessly connect to the Suunto App)
Air, Nitrox, Freediving, Gauge and Watch modes
Rechargeable battery (Li-Ion)
Set your nitrox between 21% - 99% and a max PPO2 of 1.6
3D digital compass
User updatable software
Water resistant up to 100m
Add up to 3 Suunto Tank PODs
Light weight (90gr)
Available in: All Black, Lime, White & Black. Add a Tank POD Note Copper/White is out of stock not available till just before XMAS
For more information: Suunto.com