Suunto D5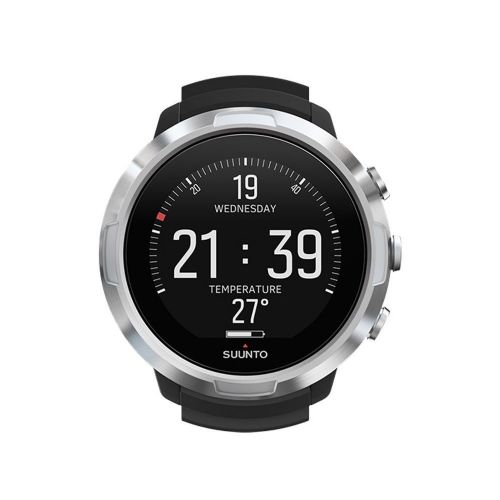 15%
Free Shipping*
Brand:
Suunto
Category: Dive Computers
More Details
The Suunto D5 dive computer features a colour screen, Bluetooth, and vibration alarms. The Suunto D-series is already under pressure, and the D5 is poised to be another winner with its easy-to-read screen, lightweight, and clear menus!
Connect your new D5 to your phone via Bluetooth to immediately share your travels with others. Utilize the Suunto App to publish your images to social media and add dive information to them to capture your dive's essence truly!
Change the mode between watch, dive, nitrox, gauge, and freediving, and customize your alarms by selecting different on-screen (colour-coded), vibrating, and loud alarms.
Add a transmitter for up to three Suunto Tank Pods to integrate wirelessly with the air. Keep track of your whereabouts with the 3D compass delivering all the necessary navigational data.
Suunto's fast-release strap system allows you to quickly switch between different strap colours and materials to suit your mood. You can select between a Zulu cloth strap, an urban leather strap, or an athletic strap for outdoor activities in addition to the regular silicone straps, which come in eight different colours.
The computer has a Li-ion rechargeable battery integrated right in. Use the USB cord that is provided to recharge your battery while on the road. In dive mode, the battery can last up to 12 hours; watch mode can last up to 6 days.
Conclusion:
It is small (90 gr), has a colour screen, and may be worn as a fashionable, athletic wristwatch daily! Both novice and expert divers can utilize it thanks to its simple interface. With the new Suunto App, Suunto has finally combined the social media capabilities of their fitness watches with those of their dive computers, so you will never need to send it back for a battery change!
Features:
Quick release strap system
Full colour screen with transflective screen technology
Bluetooth compatible (wirelessly connect to the Suunto App)
Air, Nitrox, Freediving, Gauge and Watch modes
Rechargeable battery (Li-Ion)
Set your nitrox between 21% - 99% and a max PPO2 of 1.6
3D digital compass
User updatable software
Water resistant up to 100m
Add up to 3 Suunto Tank PODs
Light weight (90gr)
Specifications:

| | |
| --- | --- |
| Measurements | 53 x 53 x 16.3 mm / 2.09 x 2.09 x 0.64 " |
| Weight | 90 g / 3.17 oz |
| Bezel material: | Stainless steel |
| Glass material: | Mineral crystal |
| Case material: | Reinforced composite |
| Strap material: | Silicone |
| What's in the box? | Suunto D5 Black Lime, USB Cable, Quick Guide, Safety leaflet, Display scratch guard sticker, International warranty leaflet, Suunto sticker |
Available in: All Black, Lime, White & Black. Add a Tank POD
For more information: Suunto.com
Please note that some products may be delayed due to a global shortage of dive computers. Contact us at (02) 9665 6333 for updated information.
Suunto D5 Test Dive Testimonials