Cressi Fast 5mm Wetsuit - Mens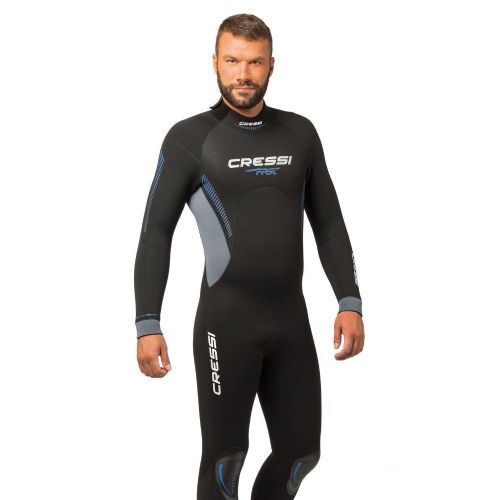 3%
Free Shipping*
Brand:
Cressi
Category: Wetsuits
More Details
The Cressi Fast Men's 5mm Wetsuit is an elegant, warm, and versatile wetsuit. It's made from durable 5mm double-lined neoprene, and resists well to compression in dept to help keep you your warmest. It's a modular wetsuit with a new design, and interesting technical solutions that guarantee a waterproof seal. These technical solutions include a "Seal" inner ring to ensure a watertight seal, and helps provide durability. This suit is particularly comfortable to wear. It features a YKK® rear zipper with Acquastop® sealing system, with smooth neoprene and an internal under zipper to minimize water infiltration.
The Cressi Fast Men's 5mm Wetsuit features the same excellent quality neoprene as the rest of the Cressi wetsuit collection. The pants of the wetsuit are preformed to improve flexibility in the legs. This in turn aids in easier kicking whilst diving, snorkelling, or swimming. The neck closure has been designed to reduce water entering the suit, and the closure flap is much wider and longer to prevent infiltration when tilting the neck underwater. The knee and shoulder area are infused with Tatex®; wear resistant elastic reinforcements. This type of reinforcement does not limit the elasticity of the neoprene, provides sufficient reinforcement and facilitates the positioning of the wetsuit. The wetusit also features particularly elastic nylon lining on both inner and outer sides to optimise the elasticity of the neoprene.
5mm of neoprene is enough for most divers in the warmer months in southern Australian waters, and all year around in northern Australia.
Cressi Fast Men's 5mm Wetsuit Features
One-piece 5 mm wetsuit in double lined neoprene
Ultraspan neoprene on arms and calves
Pre-shaped legs
YKK Back Zip with under zip lining and water-stop systemmm
Anti-abrasion reinforcement on the knees
2 Year Warranty
Cressi Mens Wetsuit Size Chart
Available in male sizes 2 to 7.
| Size | Weight | Height | Chest | Waist | Hip |
| --- | --- | --- | --- | --- | --- |
| Cressi/INT | kg | cm | cm | cm | cm |
| 2/S | 58-65 | 168-175 | 87-92 | 71-74 | 80-85 |
| 3/M | 63-78 | 170-178 | 92-98 | 74-78 | 80-85 |
| 4/L | 75-85 | 175-183 | 98-103 | 78-83 | 88-93 |
| 5/XL | 83-95 | 177-186 | 103-107 | 83-87 | 95-98 |
| 6/XXL | 88-100 | 179-192 | 107-110 | 87-93 | 98-103 |
| 7/XXXL | 95-110 | 181-196 | 110-114 | 93-97 | 102-107 |