Aqualung Dimension i3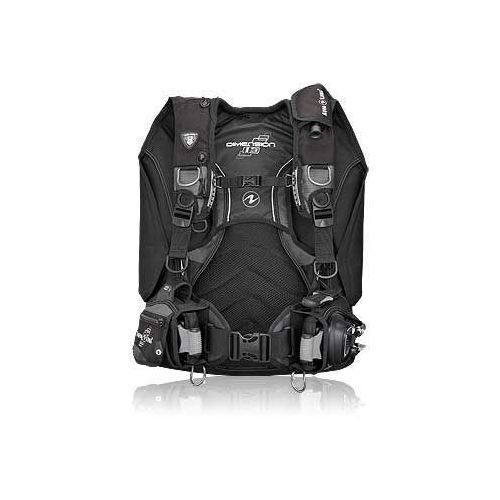 46%
Free Shipping*
More Details
The Dimension i3 is a feature-rich, back inflation-style BC that combines Aqua Lun's unique i3 inflation/deflation mechanism. It incredible stability and comfort result from the integrated Wrapture™ Harness System. The Dimension i3 is available in the black/charcoal colour scheme and is constructed from sturdy, fade-resistant materials. A mechanical weight system called SUreLock II holds integrated weights firmly in place.
Specs
✔ Style
Weight-integrated Back Inflation
✔ Inflator
i3 Controller
✔ Dump Valves
Flat e-valves
✔ Weight System
SureLock II
✔ Tankband
Universal slotted tankband
✔ Rolled collar
Yes
✔ Ditchable weight
All sizes 20lb/ 9kg
Non-ditchable weight
10lb/ 4.5kg
# of D-rings
4 stainless / 1 plastic
✔ Lift Capacity (lbs/N)
SM - 34/150,
MD - 50/220,
ML - 50/220,
LG - 50/220,
XL - 50/220

---
Features
✔ Wrapture Harness System
The innovative Swivel Shoulder Buckles and Ultra-Thin Back Plate of the Wrapture Harness System offer unmatched comfort and keep the BCD from riding up on the surface. By keeping the cylinder close to your centre of gravity and shifting the weight to your hips, the device enables you to stand up straight when you are out of the water.
✔ SureLock II Weight Release
The SureLock II Mechanical Weight Release System allows for a secure, single-pull weight release.
✔ i3 Control System
Enables simple, one-touch inflation and deflation control. Dispenses with the conventional inflator that hangs on a corrugated hose. The i3 is easy to use and intuitive; you only have to push down on the same lever to release aire and lift it to inflate. Additionally, when you pull down on the lever, both the top and lower dumps open simultaneously!
✔ HP Hose Routings
Thanks to HP hose routings via the back, your system keeps a low profile, which reduces drag.
✔ Oral Inflator
Easy-to-use pull-down oral inflator
✔ Non-Ditchable Weight Pockets
Located on the back of the BCD, these pockets help you achieve proper positioning in the water.
✔ Smooth, Flat Valves
Proprietary flat valves further reduce drag
✔ Bladder Retraction System
Bladder retraction system pulls in the sides of the bladder during deflation to keep you streamlines and reduce drag.

✔ Adjustable Chest Strap
A sliding adjustable chest strap can be lifted or lowered on a rail system for increased comfort. Aids in preventing drysuit valves.
✔ Octo Storage
Scooped octo pocket

✔ Rolled Neck Collar
Comfortable rolled neck collar

✔ Capacity
All sizes of the Dimension are capable of holding up to 30lbs/13.5kg of lead weight

Available online only