Apeks Deluxe One-Piece Web Harness Set up (Online Only)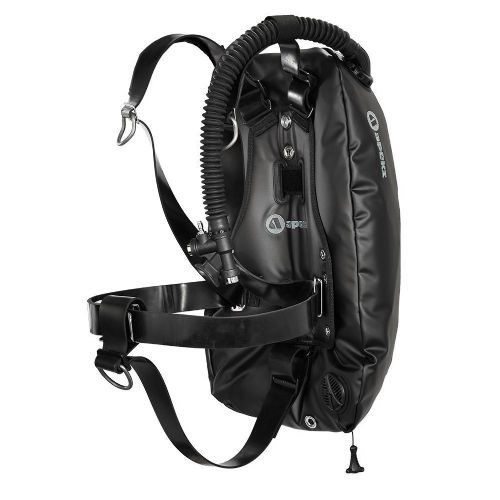 More Details
D-30 Donut Wing
Inflator
K style with brass buttons
Low profile 16" oval-shaped hose
Safety cable to prevent hyper-extension
Positioned off-centre so as not to interfere with regulator 1st stage
Dump Valve
Low profile flat valve
Positioned in front, lower-left side
Drains
2 large drain grommets
Centre mesh drain panel
Materials:
Exterior: 1000D Armorshield Cordura
Inner air cell: 22mil (.022) thick black urethane
Zipper: heavy duty YKK #10 plastic zip and slide
Deluxe One-Piece Web Harness with Steel Backplate
12ft. of solid 2" (5cm) webbing with centre grommet
2" (5cm) wide crotch strap
6 stainless 2" (5cm) D-rings
Includes neoprene shoulder protectors
2 elastic retaining loops on shoulders and one on crotch strap
Heavy duty stainless waist buckle
6 stainless serrated retainers
WTX Steel Backplate
Offered in either 304 stainless steel
The stainless steel weighs 4.7 lbs (2.15 kg).
4 each upper and lower slots accommodate nylon cylinder bands so a single cylinder can be strapped directly to the plate. Having a series of 4 slots provides lateral stability of the cylinder that traditional 2 slot plates cannot.
3 holes at the top of the plate offer a range of height adjustments for the buoyancy cells and the cylinders. In addition, a corresponding lower centre slot allows for lower band bolts that are misaligned.
2" wide crotch strap slot.
Upper and lower perimeter holes along either side and holes along the bottom allow for the mounting of accessories.
Sizing Guide: