Next 30 Starts from 22-Jul-2019
Mon 22-Jul-2019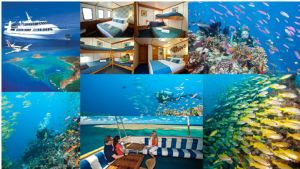 From:$1650.00 Start Time: 12:00 Availability: Full
Every Monday, Spirit of Freedoms departs from Cairns on a great diving adventure. Learn more about this 3 Day/3 Night itinerary which offers diving along the Ribbon Reefs and finishes diving off Lizard Island.
This itinerary can also include diving the world renown Cod Hole (Tide dependent).
**The Dive Sites schedule are a guide of where we are planning to go and are in no way guaranteed. If we can't go to the divesite due conditions, then the cruise director will nominate the next best suitable spot. There is no refund if we do not make it to the planned dive sites.
Dive Rating Key
Green
: Ideal for beginner divers and is a easy dive.
Blue:
For the more experienced diver with a greater level of skill in the water.
Black
: Experienced divers only. Black dive sites may experience challenging conditions such as currents and deep.