Diving is Back in Sydney Sale
W1 7mm Mens Wetsuit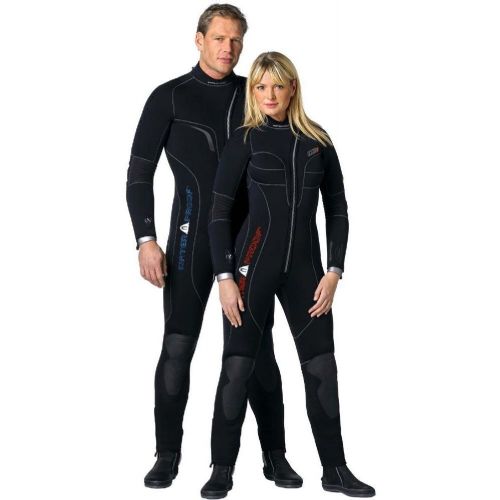 More Details
The challenge - to create a Front Zip, Fully Functional, Innovative suit with enough Technical Features to set it apart from all competitors - the Waterproof R&D staff relish the chance to create the impossible.

Mission Critical, creating an even better suit than our award winning 20th Anniversary Waterproof collection. Can it be done? The faces hardened, the doors were locked and when finally opened an incredible new suit was born, the W1.

With its first appearance on the international stage, this technically advanced suit was awarded one of the most prestigious design awards in the world, the Red Dot Design Award. It seems the W1 with unsurpassed quality, unique functionality and ergonomic design, left no hesitation in the minds of the judges it deserved the "Best of the Best 2009" in the Product Design category.

So, paired with earlier winners like Nike, Apple, Adidas and Lamborghini we at Waterproof kind of feel....well we did it again, created yet another winner!

Product Facts

Available in 5mm and 7mm thickness.
Gender Specific Design - Different patterns for man and lady provides comfortable lift and support.
Flow Line Design - Designer suit.
Double thread stitch and all ends knotted together. Waterproofed seams.
No restraining seam guidance at arms and legs.
WaterDam - Finally a working concept for hindering the water streaming down your neck and spine when moving your head. This WaterDam concept is unique for Waterproof.
Inside the neck there is smooth skin.
3D Sculpted Suit - With pre-bent arms and legs for maximum anatomical fit.
Hi-Dense Microcell CR Neoprene.
Generous double seals made from glide skin neoprene with zipper at arms and legs.
MOP - Multi Optional Platform. A unique gadget that holds Waterproof series of micro back-up gauges. Compass/Temp/Reflex.
Computer Strap Anchor - To prevent the computer from slipping off your arm when gloves are removed or suit is compressed. The antislip surface makes the computer to stay in place.
HexTex lining - a new configuration of dense knitted plush with a unique hexagon pattern to support the flex and to restrict the water flow inside the suit.
Outer lining in I-Span. More stretch and durability.
SpinePad -11mm thick and countered designed SpinePad features additional protection to kidney and spine areas. Inside has place for personal marking of the suit.
Wave flex panels in the hollow of arms and legs.
Kneepads - 3D moulded vulcanized rubber kneepads. Note the unique design that enables unrestricted leg movements via the "hinge effect". Mounted on DuraTex fabric.
Embossed elbow protection. 3-D designed and heat pressed.
NeckTab - A new adjustable fully moulded TPU (eco) NeckTab with micro teeth. Sticks only to the assigned Velcro part.
NeckTab Holder - The NeckTab attach to the knob holder to keep tab in place in surface mode.
A seat that grips - Polyurethane embossing in the back provides a non-slip grip and integrated abrasion protection.
PU Reinforced Shoulders - Critical area abrasion resistance and anti slip function.
Front zipper YKK #10 Vislon Zipper. Rated best quality zipper. A stop function prevents the slider from getting stucked.
ZipperSeal with open cell neoprene on both sides of zipper for an ultimate dry seal.
Zipper puller in TPU gives very good grip with or without gloves, to open and close the zipper. The flat design makes it disappear when you don't use it.
ZipGrip - YKK #10 Vislon zipper features a TA slider with an anti-slip designed ZipGrip at arms and legs.
High Visibility - Reflective logo on neck.
Click Here to see a Men's Size Chart