Tusa X-Wing BCD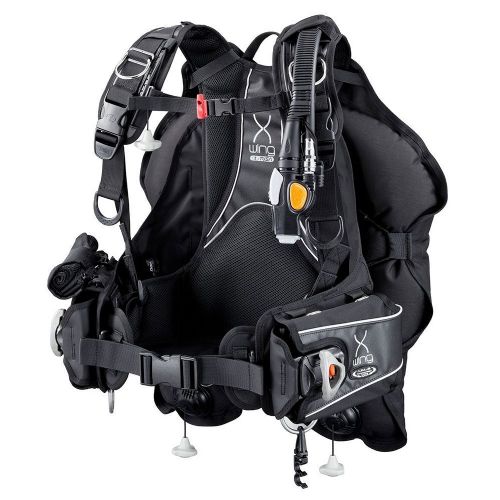 10%
Free Shipping*
Brand:
Tusa
Category: BCD
More Details
The BCJ-8000 X-Wing rear-inflation BC jacket strikes the perfect balance between technical and leisure. With the newly created 500D Cordura® nylon horseshoe bladder, TUSA's unique Independent Harness System and Ultimate Stabilizing Harness provide the superior lift, comfort, and freedom of movement needed by even the most discerning divers.
The X-Wing is further enhanced with a 3-D foam backpad, the newly designed A.W.L.S. II integrated weight-loading system, removable rear trim pockets and mesh accessory pocket and is standard with TUSA's revolutionary Active Purge Assist inflate/deflate system.
FEATURES
Fully featured rear inflation tech style BCJ
Independent Harness System
Ultimate Stabilizing Harness
3-Dimensional foam padded lumbar and backpad area
A.W.L.S II integrated weight-loading system
Removable rear trim pockets
Depth-compensating cummerbund
Newly designed adjustable sternum strap with safety whistle
420D/840D nylon harness for superior strength and durability
500D Cordura® nylon horseshoe shaped bladder with bungee
Removable roll out mesh accessory pocket
Kinfe grommets for FK-10/11 (Use TC-652 knife mount)
2 stainless steel and 3 resin D-rings
4 dump valves (OPEV+3)
Standard with Active Purge Assist (A.P.A)
Sizes: S,M,L,XL
Lift Capacity: S: 29.2 lbf./M29.2 lbf./L:40.5 lbf/XL: 40.5 lbf.
---
TECHNOLOGY
A.W.L.S. II (Advanced Weight Loading System II)
The 2nd generation A.W.L.S. continues to enhance TUSA weight integrated BC jackets by incorporating an ergonomic handle grip and quick-lock feature. Release the weight cartridges with ease by simply turning the handle grip vertically 90° in either direction.
Independent Harness System (I.H.S.)
The Independent Harness System isolates the BC Jacket's harness from the air cell, tightly supporting the tank even with changes in air cell inflation/deflation. The I.H.S prevents tank slippage and eliminates any gaps between the tank and your back
RiteTite Buckle
The RiteTite Buckle is a two (2)-position cam strap for quick and easy adjustment. While the strap is being lopped through the buckle, the buckle stays in place without needing to be held. This allows for more control and stability. This feature is part of all TUSA BC's. Watch video
Ultimate Stabilizing Harness (U.S.H.)
TUSA's Ultimate Stabilizing Harness completely eliminates tank roll and delivers an amazing fit. The U.S.H securely holds the air cylinder in place with optimally placed rails and brings the tank closer to the body incresing tank control while reducing weight. Read more
TUSA Duo Air II Compatible
TUSA Duo Air II, integrated second stage regulator/power inflator is compatible
---
Size Guide
| Model # | Product Name | Size | Lift Capacity | Waist Measurement | BC Weight (dry) | Releasable Weight | Dump Valves | Material |
| --- | --- | --- | --- | --- | --- | --- | --- | --- |
| | | | | | | | | |
| BCJ-8000C | X-Wing | S | | | | | 4(O.P.E.V.+3) | 500D CORDURA Nylon |
| | | M | | | | | 4(O.P.E.V.+3) | 500D CORDURA Nylon |
| | | L | | | | | 4(O.P.E.V.+3) | 500D CORDURA Nylon |