IQ750 Element II Wrist Computer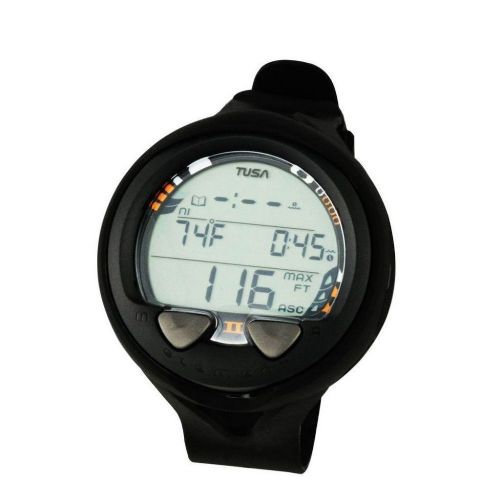 Brand:
Tusa
Category: Dive Computers
More Details
Deep Stop Function
Several TUSA computers feature an optional deep stop function for additional safety. The deep stop mode is activated when a dive exceeds 80 FT (24M) for more than 1 second. Upon ascent, the computer will display a Deep Safety Stop screen and the recommended stop depth for a period of 2 minutes. This deep stop is highly recommended as additional opportunity to off-gas, but is not mandatory. If the diver chooses not to serve the stop it will not adversely affect the remaining No-Decompression Limits of the dive.
Features:
Advanced 3 button puck-style module in wrist boot
Air, Nitrox, Gauge, Free Dive Operating Modes
2 Mix Switching Feature: Mix 1 (Air, 21-50%), Mix 2 (Air, 21-100%)
Manual or Water-Activation
Audible and Flashing Icon Alarms
Large alphanumeric and backlit display
Advanced user safety settings
Deep Stop Feature and Safety Stop
1 Touch Log Access
Automatic altitude adjustment from sea level to 14,000'
No fly icon, residual nitrogen discharge time display
PC download and upload settings/log data with TUSA Datalog Interface
User-replaceable battery with hot-swap (Battery: CR2450, 3V)
TUSA Algorithm based on Buhlmann ZHL-16c
Variable Ascent Rate Indicator
Console versions: SCA-252 and SCA-352