Suunto D6i Wrist Computer (Black) + Wireless Transmitter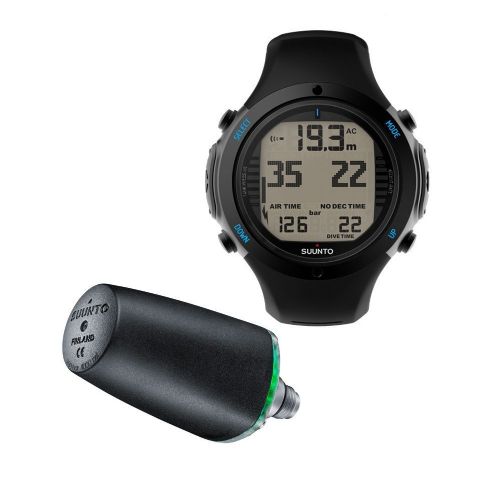 Brand:
Suunto
Category: Dive Computers
SKU:
SS021956000 + SS019098000
More Details
Serious dive features in a rugged steel casing
The new refined Suunto D6i Novo is the watch-sized dive computer of choice for those who take their diving seriously. With a tilt-compensated 3D digital compass and wireless air integration, it's a great tool when other people rely on your diving skills. Trusted by professional divers, its good looks make it a great addition to your more civilian wardrobe too.
WIRELESS TANK PRESSURE TRANSMITTER
The Suunto Wireless tank pressure transmitter gives you current tank pressure and remaining air time with just a glance at your wrist. Before your dive, simply pair the transmitter with your dive computer and you're good to go. The transmitter's handy green LED light lets you know that it's on. Suunto Wireless Tank Pressure Transmitter is compatible with Suunto D9, DX, D9tx, D4i, D4i Novo, D6i, D6i Novo, Vytec, Vytec DS, Vyper Novo, Vyper Air, and HelO2.