Suunto Zoop Novo Wrist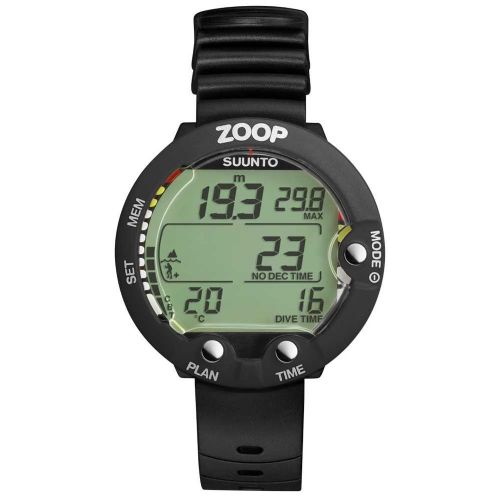 Brand:
Suunto
Category: Dive Computers
More Details
Effortless operation
Easy-to-use push buttons, a straightforward menu structure, and a super-bright phosphorescent LCD display make Suunto Zoop really simple to operate. You can wear Suunto Zoop as a wrist unit, or mount it on one of Suunto's Combo consoles.
Multi-mode versatility
With its two dive modes Air and Nitrox Suunto Zoop is a versatile computer. It can be programmed for nitrox mixtures of 21% to 50% oxygen and adjusted for oxygen partial pressure of between 1.2 and 1.6 bar.
Flexible decompression
Using the Suunto RGBM algorithm, Suunto Zoop enables continuous decompression for optimal ascent time. Both ascent rate and available no-decompression time are displayed graphically with clear color-coded indicators. Visual and audible alarms are given whenever necessary and you can also enable maximum depth and dive time alarms.
Plan and review
You can test upcoming dives and view no-decompression time data for different depths before getting in the water with the built-in dive planner. When the dive is over, use optional Suunto Dive Manager PC software to transfer your dive data to your computer for further analysis and to maintain a detailed logbook featuring graphical representation of all your dives.