Suunto Eon Steel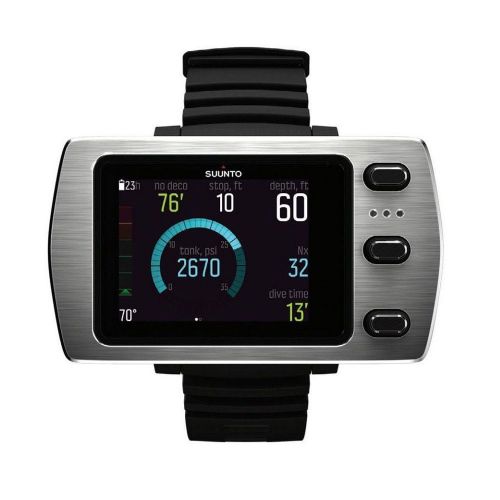 Brand:
Suunto
Category: Dive Computers
More Details
FULL CUSTOMIZATION
The Suunto EON Steel will grow with you as your diving and skills evolve, thanks to the way you can customize it to your needs. With Suunto CustomDisplay™, you can tailor your Suunto EON Steel so that it shows exactly what you want.
The product comes with the choice of a strap or bungee attachment so it can be physically customized as well.
CLASSIC AND GRAPHICAL STYLE
Depending on your personal preference you can choose between a classic and a graphical view type. Classic gives you a traditional text-based interface. If you like more visuals, try the graphical view.
UP TO 4 CUSTOM DISPLAYS
The possibility to adjust multiple screens gives you plenty of options to meet your needs. Whether you prefer having the most vital information on one display or having additional information or functions on several displays you can easily browse through underwater.
DEFINE WHAT IS DISPLAYED
Simply connect your Suunto EON Steel to DM5 and you can define which information is shown where, and disable fields entirely.

PHYSICAL CUSTOMIZATION
You can wear your Suunto EON Steel either with an elastomer strap or bungee (both supplied). You can also use the rubber boot for added protection. Customize Suunto EON Steel for different dives to match your needs. Everything is included in the package!
Suunto Wireless Transmitter with LED RRP $599
The Suunto Wireless tank pressure transmitter gives you current tank pressure and remaining air time with just a glance at your wrist. Before your dive, simply pair the transmitter with your dive computer and you're good to go. The transmitter's handy green LED light lets you know that it's on.
Compatible with Suunto air-integrated dive computers
Green LED light to indicate data sending
Battery life approx. 2 years (100 dives/year)
Available online only