Suunto DX with USB (without transmitter)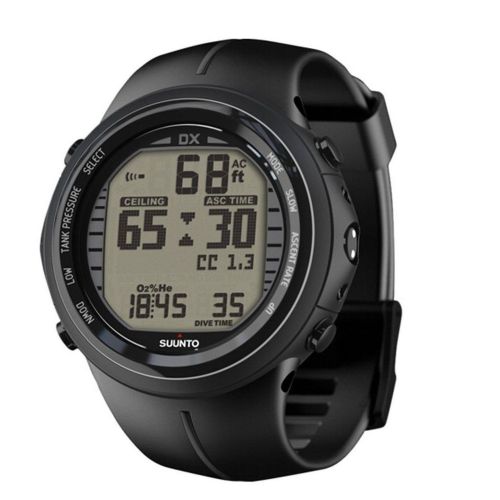 Brand:
Suunto
Category: Dive Computers
Normally: $1499.99
From:$1399.00
Save 7%
The Suunto DX, built on the award-winning Suunto D9tx, is the ultimate tool for open circuit and rebreather divers. It's the very first of its kind to feature CCR compatibility. The premium design and materials, combined with the new superior Suunto Fused™ RGBM, make it the must-have instrument for your dive missions and everyday adventures. Are you ready to conquer new territory?
More Details
Free Xmas Battery Change
1st Battery Change with Pressure Test for Free saving upto $125*
* Computer must be bought from 21st November to 24th December from PRO DIVE Online shop or PRO DIVE Sydney Dive Centres. The battery change can only be redeemed at the PRO DIVE Sydney Dive Stores. Battery change cannot be used for any other computer and is only valid for the computer purchased. Free Battery Change offer is only valid for computer purchase outright and not included with a Pack or any other special offer. Not available on price matches. Price of battery change vary.
Suunto DX diving functions:
Suunto Fused RGBM algorithm for recreation, technical and CCR diving
Helium and oxygen support for trimix diving
8 gas total gas switching
Digital compass that is 3D tilt-compensated
CCR, mixed gas, air and gauge modes
Wireless air integration
Dive planner built in
Suunto DM4 software for detailed graphical logbook and dive date on your PC
Suunto DX rebreather functions:
Non-monitoring, setpoint dive computer with dedicated CCR mode
3 different diluents are configurable
High and low setpoints are adjustable with custom setpoint settable during dive
Manual and Automatic setpoint switching
Bailout to open circuit supported
Suunto DX everyday features:
Stunning design that is compact
Premium materials that are hard-wearing Scratch resistant sapphire crystal glass and titanium case
Optional titanium bracelet
Available online only