Suunto D4i Wrist Computer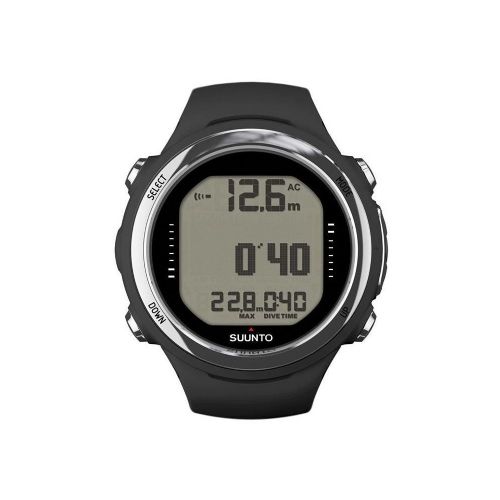 15%
Free Shipping*
Brand:
Suunto
Category: Dive Computers
More Details
The new Suunto D4i Novo computer is a versatile device that can be used for freediving (or apnea) mode and scuba diving on air or enriched air Nitrox. The Suunto D4i has air integration to show your tank's air pressure and the remaining air time when purchased with a transmitter.
It has a beautifu; design and can also be used as a conventional watch.
The Suunto D4i Novo includes four different settings and a non-stop decompression process. Air, Nitrox-enhanced air, freediving mode, and off are your options.
The computer's timing modes and firmware can be changed for scuba and apnea modes. When the Suunto DM5 software is downloaded, dives may be put into your PC for logging and evaluation. The Suunto D4i Novo enables dive planning and a logbook.
Features
Full continuous decompression algorithm
Suunto RGBM
Four modes: air, nitrox, free and off
Innovative apnea timer, and a timer in air/nitrox modes
Updateable firmware
Optional wireless air integration
current cylinder pressure, remaining air time (Requires Suunto Wireless Transmitter, sold separately)
Built-in dive planner
Detailed graphical logs and dive data on your PC/Mac using Suunto DM5 software
Specifications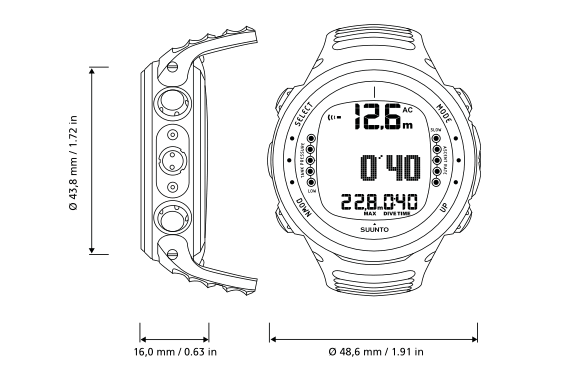 | | |
| --- | --- |
| Measurements | 48.6 x 43.8 x 16 mm / 1.91 x 1.72 x 0.63 " |
| Weight | 85 g / 3 oz |
| Bezel material | Stainless steel |
| Glass material | Mineral crystal |
| Case material | Composite |
| Strap material | Elastomer |
| What's in the box? | Suunto D4i with black elastomer strap and black extension strap, Scratch guards (2 pcs), safety leaflet, quick guide and dive legal leaflet with warranty information, Suunto logo sticker |
Technical Specifications
General
| | |
| --- | --- |
| Bezel material: | Stainless steel |
| Glass material: | Mineral Crystal |
| Case material: | Composite |
| Strap material: | Elastomer |
| Weight | 85 g / 3 oz |
| Water resistance | 100 m (ISO 6425, EN 13319) |
| Battery life 100 dives/year | 1.5 years |
| Battery type | CR 2450 |
| Time, date | ✔ |
| Alarm clock | 1 day alarm |
| Dual time | ✔ |
| Stopwatch timer | ✔ |
| Languages | EN |
| Backlight | electro-luminescent |
| Configurable backlight | duration: off, 5, 10, 20, 30, 60 s |
| Display type | matrix |
| Display resolution | 49 x 22 |
| Battery indicator | low battery indicator |
| Metric and imperial units | ✔ |
Battery Life
Connectivity
| | |
| --- | --- |
| Data transfer | USB cable (optional) |
| Connectivity (between devices) | inductive |
| Compatible with DM5 | ✔ |
Physical Specifications
| | |
| --- | --- |
| Operating temperature | 0° C to +40° C / +32° F to +104° F |
| Storage temperature | -20 ° C to +50 ° C / -4° F to +122° F |
Diving Functions
Basic
| | |
| --- | --- |
| Maximum operating depth (EN 13319) | 100 m / 328 ft (EN 13319, ISO 6425) |
| Nitrox (and air) | ✔ |
| Freedive | ✔ |
| Dive time | 0 to 999 min |
| Surface time | 0 to 99 h 59 min |
| No fly time | ✔ |
| Safety stop | ✔ |
| Deep stop | ✔ |
| Ascent time display | 0 to 199 min (- - after 199) |
| CNS/OTU (OLF) calculation | ✔ |
| Wireless aire integration | optional |
| Decompression model | Suunto RGBM |
| Personal adjustment | 0 - 2 |
| Altitude adjustment | 0 - 300 m / 300 -1500 m / 1500 - 3000 m |
| Gases | 1 gas (Oxygen 21 - 50%) |
| Gas max p02 | 1.2 - 1.6 |
| Timer | ✔ |
| No-decompression planner | ✔ |
| Logbook memory | ~140 h (20 s sampling rate) |
| Logbook bookmarks | ✔ |
| Logbook sampling rates | 10, 20, 30, 60 s (1, 2, 5 s freediving) |
| Dive history | lifetime |
Dive Alarms And Notifications
| | |
| --- | --- |
| Dive time | ✔ |
| Maximum depth | ✔ |
| Tank pressure | ✔ |
| High p02 (hyperoxic) | ✔ |
| Too fast ascent | ✔ |
| Decompression ceiling violation | ✔ |
| Deepstop violation | ✔ |
| CNS/OTU (OLF) 80% / 100% | ✔ |
Freediving
| | |
| --- | --- |
| Apnea timer (O2/CO2 tables) | ✔ |
| Freedive number | ✔ |
| Freedive day history | ✔ |
| Freedive total history | lifetime |
| Depth notify | yes (5) |
| Surface time notify | ✔ |
Outdoor Functions
| | |
| --- | --- |
| Temperature display range | -20° C to +50° C (+/- 2° C) / -9° C to +122° F (+/- 3.6° F) |
| Temperature resolution | 1° C / 1.5° F |
| Temperature | ✔ |
Training Functions
Speed And Distance