Standard Suunto D4i (no USB or Transmitter)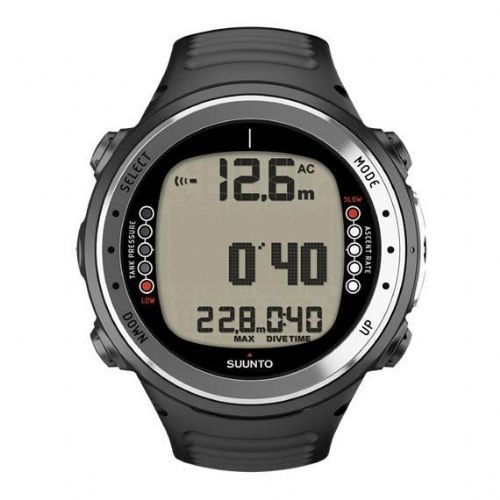 Brand:
Suunto
Category: Dive Computers
Normally: $749.00
From:$499.00
Save 33%
The Suunto D4i also has wireless air transmitter capability for Tank Air Pressure monitoring. No need for pressure gauges! The original style of D4i comes with a standard elastomer strap. Limited colour choices available.
More Details
The Suunto D4i dive and freedive computer has three modes.
Air Mode, the Suunto D4i is a refined dive computer with full decompression capability, extensive memory capabilities, profile recording, and dive-planning functionality. The logbook/profile memory can store up to 80 hours of dive data, with a lifetime dive history also recorded. Using the Suunto Reduced Gradient Bubble Model (Suunto RGBM) algorithms for decompression calculations, the model can be adjusted using personal/altitude settings.
Nitrox Mode, the Suunto D4i provides the same functionality as in the Air mode, but also enables the use of nitrox mixtures with an oxygen content of 21 -50% and an adjustable PO2 limit of 0.5-1.6 bar. The new air integration helps for hoseless air pressure monitoring.
Freediving Mode, the Suunto D4i Freediving mode provides the Freediver with accurate depth and Freedive time recordings as well as alarms. The Suunto D4 is programmed to capture the depth three times a second for an accurate maximum freedive depth reading, while also recording the profile memory every second. The Freedive time, in minutes and seconds, is clearly visible in the center of the display. The user- adjustable alarms can be set in advance to keep Freedivers informed of their progress throughout their dive.
The Suunto D4i dive and freedive computer not only serves as a functional diving watch, but also as a total timepiece. With dual time, calendar date, daily alarm, and stopwatch, the Suunto D4i doesn't need to be taken off when the dive is over.
Continuous Decompression
The Suunto D4i is PC Downloadable
Log Book Memory
The D4i uses the RGBM
Nitrox Compatible
Maximum Depth Alarm / Bottom Time Alarm
The Suunto D4i dive and freedive computer has multiple Operating Modes including Freediving
*Diving not included