Winter Sealife V Boat Packages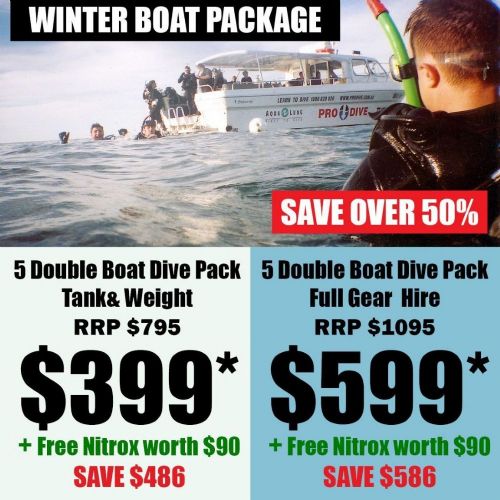 Brand:
PRO DIVE
Category: Boat Dive Packages
Normally: $885.00
From:$399.00
Save 55%
Experience the Winter wonders of Sydney diving. These cooler months often provide divers with clear Blue water where visibility can reach up to 30m. The Boat will also provide you with an 8mm wetsuit with the option to add a hooded vest to stave of the cold. Our advice would be to bring plenty of warm clothes for the surface interval and boat ride back.

More Details
Winter is the best time of year to dive in Sydney. We have 2 special winter boat packages which can be used for trips between the 15th June to the 31st October 2018.
Standard Boat Dive Inclusions
Experienced Dive Guide
2 SCUBA Dives per trip
Hot and cold refreshments
5 Double Boat Dive Pack Tank & Weight
RRP $795


$399*


+ Free Nitrox worth $90
SAVE $486

5 Double Boat Dive Pack Full Gear Hire
RRP $1095
​$599*
+ Free Nitrox worth $90
SAVE $586
Terms and Conditions
Packages are to be paid in full prior to first booking.
Winter Packages are valid till 31st October ​2018
Can be shared between 2 people
Winter Boat packages cannot be redeemed after the 31st October 2018
Any unused trips can be used after the 31st October 2018 once the difference is paid for each trip. The costs are as follows;

$39.60 per trip for Tank & Weight

$59.80 per trip for Full Gear
Diver Requirements
​​You must be at least an Open Water Certified divers or above.
Proof of certification must be provided on arrival. If you require verification of certification, you will need to contact the store at least 24 hours prior to the start as we may not be able to get this information instantly.
Failure to arrive by the published start/departure times for the activity, no refunds or credits will be offered.​
If you have done less than 10 dives, you must have dived in the last 6 months.
If you have more than 10 dives, you must have dives in the last 12 months.
All our dives have a planned dives site which may require a level of experience. Please review the dive site planner and dive site information in regards to this.
You must be medically fit to dive.
You will be required to sign our Liability Waiver for the activity on arrival. A copy can be found here
If you fail to meet any of the above requirements, PRO DIVE reserves the right to refuse to provide diving and dive related activities where a customer is deemed by staff to be unfit to participate. Refunds will be made at PRO DIVE's discretion.​
Dive Site
​PRO DIVE retains the right to change our planned dive site should prevailing sea conditions or weather conditions make it unsafe for diving. In these circumstances, no refunds will be offered should the diver decide not to proceed with the dive. ​
Transfer/Cancellation
​You are able to cancel/transfer your booking , where a minimum of 48 hours notification is given prior to the start of the activity is available for a $25 fee and must be booked for another date before the 31st October.
Where cancellation/transfer notification is received LESS THAN 48 hours prior to the event, no refund will be offered. ​