MC9 Compact Regulator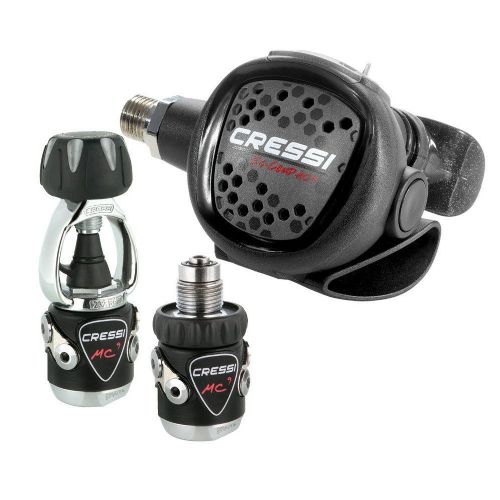 Brand:
Cressi
Category: Regulator
Details
This premiere travel regulator packs maximum performance into minimum space.
A true featherweight second stage, the Compact is built from lightweight techno-polymers to eliminate jaw fatigue.
Easy to pack and easy to dive, the Compact includes dive/pre-dive Venturi switch
for managing freeflow and maximizing performance at depth.
TECHNICAL FEATURES 1ST STAGE
- Balanced diaphragm (seal chamber for MC9SC)
- 2 outlets HP 7/16 UNF
- 4 outlets MP 3/8 UNF
- Service pressure: 300 bar (4350 psi) DIN version,
232 bar (3365 psi) Yoke version
- Calibration pressure: 10 Bar
- Brass body Electroless Nickel plated
- High capacity conical filter electroless nickel plated
- Aisi 316 removable nozzle
- Hyper-balancing
- Anti-pressure drop pneumatic spring
- Setting spring: stainless steel with micropeening treatment
- Replaceable cylinder with anti-friction
and anti-corrosion properties
- Elastomer protector
- Flow rate: 4500 l/min
- Yoke version weight: 590 gr
- Din version weight: 450 gr
TECHNICAL FEATURES 2ND STAGE
- Downstream system
- Adjustable venturi effect
- Patented antifriction lever
- Big purge button
- Anti-scratch surface
- Bayonet-type cap holder with security lock
- Removable exhaust tee
- Weight without hose: 135 gr
COMBINATION PERFORMANCE
- Average Cracking effort 6 mbar
- Average breathing effort 1 J/l
JACKETED HOSE extremely light and flexible weight: 153 gr
CERTIFICATION EN250/2000