Cressi Comfort 7mm wetsuit - Men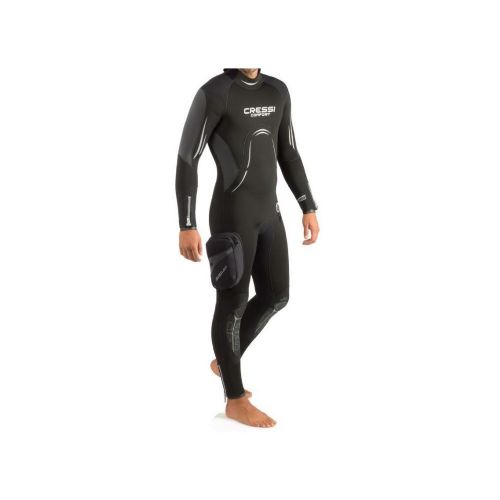 13%
Free Shipping*
Brand:
Cressi
Category: Wetsuits
Can only be purchased instore or over the phone due to limited sizing and stock.
More Details
COMFORT is the right wetsuit for divers who particularly appreciate the ease of fit and comfort. In addition, the high elasticity of the whole improves the watertightness and reduces the circulation of water.
The outer coating is 100% Ultraspan® superelastic, quick-drying and more hydrodynamic, and the X-Plush© coating in the inner area, quick-drying and sliding, which facilitates the fit of the wetsuit. It is very pleasant and thermal and does not limit the original elasticity of the neoprene and outer fabric. It facilitates the positioning of the wetsuit and improves its thermal properties before, during and after the dive. The weave of the fabric and the type of fibre reduces water circulation and increases the thermal memory of the neoprene. It is also water-repellent, so drying is very fast. This combination of fabrics of similar elasticity allows them to be combined with a dense and compact neoprene to reduce the buoyancy of the suit and its level of compression.
Small reinforcement in Dyamond© fabric in areas of great erosion such as shoulders, shins and buttocks.
Collar with Anatomic Shape design, preformed at 120º for maximum comfort.
Significant design improvement that reduces water ingress at this critical point: the closure flap is now much wider and the neck area is prolonged to prevent infiltration during the neck tilt underwater.
Wrists and ankles are waterproofed with Glide Skin + Smooth double inner sleeves (to prevent them from sticking when not in use) and zippers.
Knee/tibia area with Tatex® wear-resistant elastic reinforcements. This type of reinforcement practically does not limit the elasticity of the neoprene, provides sufficient reinforcement and facilitates the positioning of the suit.
Neoprene pocket on the side.
YKK zipper. Safety carabiner.
The level of finish is very complete without going into unnecessary sophistication and maintaining a moderate price level.
Reinforcement/tensioner with tab at the base of the rear zip.
Its black-dark grey combination makes it 100% combinable. All elements are independent and available separately.
Size Guide: