Atomic Split Fin Smoke on the Water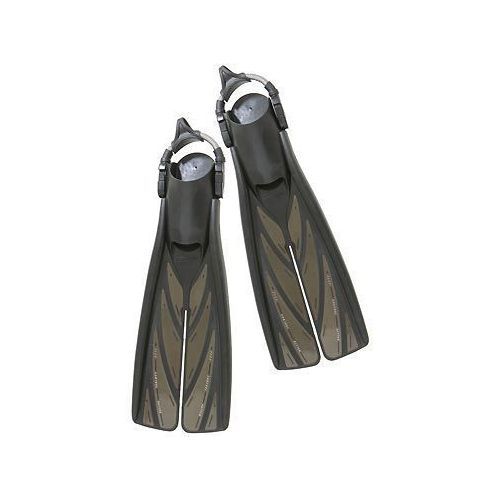 Can only be purchased instore or over the phone due to limited sizing and stock.
More Details
LNot all Split Fins are the same.
Splitfins come in a variety of shapes, sizes and stiffness. These contribute greatly to overall comfort and performance. A fin with short, soft blades will kick easier than a longer, stiffer one, but will require many more kicks to travel the same distance. A blade that is too stiff will require too much effort to kick comfortably. The Atomic Split Fins were specifically designed to optimize all these variables. They are easy kicking fins that deliver high thrust, speed, and efficiency with a comfortable, low frequency kick cycle.

Spring Heel Straps
Another "rethinking" of something simple, the unique rust-resistant stainless steel springs were designed with variable pitch geometry. Divers get a more comfortable fit and easy one-hand removal, yet the springs are resistant to deformation if overstretched.
Size Chart (European shoe sizes)
Small 37-38
Medium 39-41
Large 42-43
X-Large 44-46