Aqualung Axiom BCD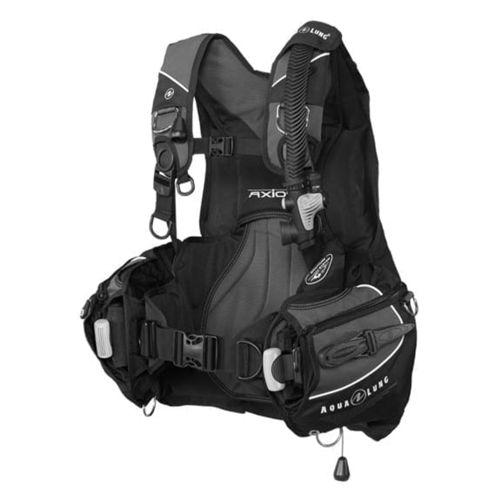 7%
Free Shipping*
More Details
✔ Style
Weight-integrated Jacket
✔ Inflator
Powerline
✔ Ditchable weight
XS - ML 20lb/ 9kg
L - 2XL 30lb/ 13.5 kg

Non-ditchable weight
All sizes 10lb / 4.5kg
Lift Volume: (lbs/N)
XS - 27/120,
S - 27/120,
M - 35/150,
ML - 38/160,
L - 39/170,
XL - 43/190,
2XL - 48/210
---
Features
✔ Wrapture Harness System
The innovative Swivel Shoulder Buckles and Ultra-Thin Back Plate of the Wrapture Harness System offer unmatched comfort and keep the BCD from riding up on the surface. By keeping the cylinder close to your centre of gravity and shifting the weight to your hips, the device enables you to stand up straight when you are out of the water.

✔ GripLock Tank Band
The finger-saver function and macro preset on the GripLock tank band make it simple and secure to attach and detach your cyliner.

✔ SureLock II Weight Release
The SureLock II Mechanical Weight Release System allows for a secure, single-pull weight release.

✔ Additional Dump Option
Right shoulder pull

✔ Oral Inflator
Easy-to-use pull-down oral inflator

✔ Rolled Neck Collar
Comfortable rolled neck collar

✔ Bladder Retraction System
Bladder retraction system pulls in the sides of the bladder during deflation to keep you streamlined and reduce drag.

✔ Smooth, Flat Valves
Proprietary flat valves further reduce drag

✔ Optional Instrument Configuration
The scooped opening on the top front of the lobe and behind the left pocket may be found handy to run the equipment.

✔ Octo Storage
Scooped octo pocket

✔ Gear up!
Multiple pockets, D-rings, and knife attachment points make stowing and accessing gear easy.
---
Size Guide
| Size | Height | Weight (lb) | Waist range (in) | Over the Shoulder (in) |
| --- | --- | --- | --- | --- |
| XS | 5'-5'5 | 100-125 | 30-42 | 33-41 |
| S | 5'2-5'7 | 120-155 | 30-42 | 37-45 |
| M | 5'7-5'10 | 150-165 | 33-45 | 40-48 |
| ML | 5'10-6'0 | 160-190 | 35-47 | 42-50 |
| L | 6'0-6'2 | 180-210 | 38-50 | 44-52 |
| XL | 6'2-6'5 | 195-240 | 41-53 | 46-54 |
| XXL | 6'2-6'5 | 230-270 | 44-56 | 46-54 |