ATORCH TC-09 2650LM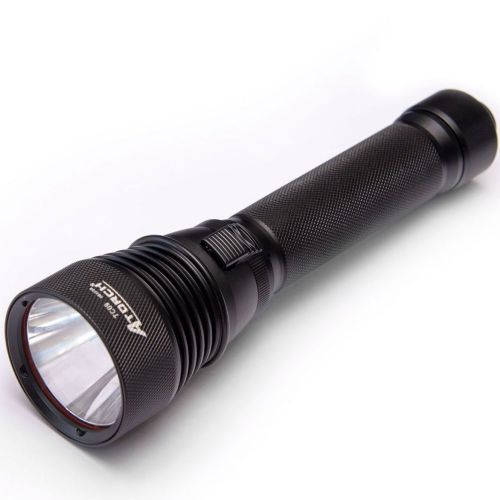 More Details
The A-Torch TC-09 LED dive light represents superior performance and exceptional power combined to provide you with outstanding technology that is the best in the A-Torch range. With an incredibly powerful 2650 Lumens this dive light will provide you with great illumination for all of your photography and videography needs. This is the perfect solution for the serious diver wanting only the best in their underwater lighting.
The A-Torch TC-09 is the ideal light solution for the diver wanting a serious dive light that can be used for multiple diving applications. The light is powered by 2 x 26650 4000mAH 8.4V Lithium-Ion Rechargeable Batteries which are included with the light. Being rechargeable divers will enjoy no longer having to buy batteries to run this torch. The light is constructed and milled from a solid block of high grade Aircraft grade Aluminium to ensure a long and durable working life. The light is also designed to be impact resistant and will survive falls from 1 metre.
The light is depth rated to 100 Meters and each unit is fully tested prior to leaving the factory. The light is designed to be ergonomic and very easy to handle. It's superior hard anodised finish has been designed to provide the ultimate in salt resistance and the light is controlled by a Magnetic slide switch for easy hassle free use. The Magnetic switch also means that there is no additional opportunities for water flooding the torch. This item includes the dive light, 2 x batteries, micro USB charger, wrist lanyard and an attractive gift box.
Features:
Power: 1800 - 2650 Lumens
Intensity: 19000 Lux
LED: Cree XHP50-2 LED
Burn Time: 5.5 Hours Low - 2.5 Hours High
Recharge Time: 5 Hours
Impact Resistant: 1 meter
Depth Rated: 100 metres
Switch: Magnetic slide switch for easy hassle free use
Battery: 2 x 26650 4000mAH 8.4V Lithium-Ion Rechargeable Batteries (included)
Construction: Solid aircraft grade aluminum body
Milled from a single block of high grade aluminum
Exceptionally powerful variable output beam
Depth rated: 100 Meters with each unit fully tested prior to leaving the factory
Superior hard anodised finish for the ultimate in salt resistance
Magnetic switch means no additional opportunities for water flooding the torch
Includes: LED Light, Lithium-Ion Battery, Micro USB Charger, Wrist lanyard and attractive gift box