Apeks WSX-25 Sidemount Harness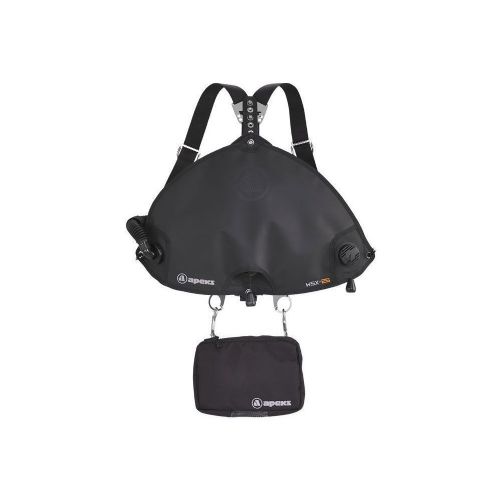 Brand:
Apeks
Category: Tech Gear
More Details
The Apeks "SlideLock" sliding D-ring is brand new and unique to Apeks. It allows the diver to easily change the position of the cylinders as their buoyancy changes during the dive. No need to clip your cylinder on and off, simply adjust the position of the D-ring during your dive.
The two-piece plate system is adjustable to any torso length, making this a one size fits all harness. The WSX has individual webbing sections rather than one long piece running through the harness, which allows the complete system to be quickly and easily adjusted.
BLADDER:
27lbs lift

Armoguard protects the bladder against abrasions in confined spaces

Reversible inflator can be mounted on left or right side

Grommets at lower corners allow for mounting bungee to keep the bladder streamlined to your body
HARNESS:
Solid 2" (5cm) webbing comes pre-assembled

Removable crotch strap made of 2" (5cm) soft webbing

4x two inch stainless steel D-rings (2 angled on shoulders, 1 angled and 1 flat on the crotch strap)

2x "SlideLock" sliding stainless steel D-rings on waist strap allow for easy adjustment of cylinders throughout the dive

2x stainless steel drop D-rings along the lower back are for connection to the included butt pack, or for marker buoys, reels or other accessories

Heavy-duty waist buckle made of stainless steel

Two-piece stainless steel plate allows the torso length to be adjusted to fit any diver

Zippered Butt Pack with stainless steel snap hooks included

Weight pouches are mounted on the spine strap

Comes complete with two sizes of bungee and five stainless steel bolt snaps.

Two grommet strips allow the diver to adjust the weight pouch and bladder based on their specific requirements