Sydney Refresher + Double Boat Dive Voucher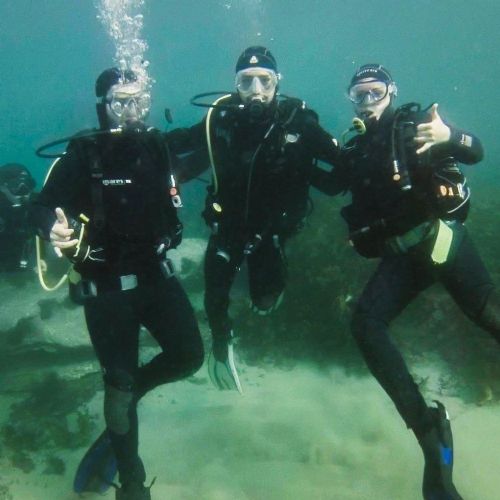 Details
Gift Voucher for a Sydney Refresher Dive at either at our Alexandria or Manly Store
1 x Shore Refresher at Alexandria or Manly
3 Dives in Total
All Gear Provided
Our Refresher + Sydney Boat Special is a great way to get you comfy in the water for that Next trip.
About the Refresher
The Refresher dive can be a very individual activity depending on your level of prior experience - what skills you are weak on and needs more emphasis. If you have not dived for a few years or since you have completed your certification, then this is the ideal course for you.
Learn more Alexandria or Manly
Our Boat: Pro Dive's Sea Life V
Our state-of-the-art 43ft Steber dive boat 'SEALIFE V', offers a outstanding level of service and comfort. 'SEALIFE V' carries a full range of dive equipment to cater for 19 Divers. Onboard facilities include twin hot showers, galley, toilet, a massive diving deck, dual ladders, comfortable undercover seating and twin 430hp diesel engines to get you effortlessly to and from the dive sites.
Learn more Boat Dives
Terms & Conditions
1. All vouchers purchased online through Pro Dive will either be for a Cash Value or for a Service.
2. All Gift Vouchers will have an Expiry/Validity Date and Gift Vouchers must be redeemed and activity completed by the expiry/validity date.
3.All Gift Vouchers purchased in conjunction with a Special Offer are subject to the conditions of that Special Offer
Changes to Expiry/Validity Date:
Pro Dive, can under special circumstances, grant an Extension of Expiry/Validity Date and an administration fee of $25.00 will apply
Granting of an Extension of Expiry/Validity date by Pro Dive is subject to the following:
1. A redemption date must be nominated at time of extension of the expiry/validity date of the Gift Voucher
2. If the Product or Service has had a price increase when redeemed outside the original expiry/ validity date of the voucher, the voucher holder will be required to pay the difference.
Pro Dive will not be responsible for any changes in the inclusions of the good or service when redeemed outside the original validity date of the voucher. Changes to an expiry/validity date can only be organised by the
Voucher holder contacting Pro Dive on (61) 02 8116 1199.
Redemption of this Gift Voucher
1. Gift Vouchers purchased online, can be redeemed by calling (02) 8116 1199 or directly at the Pro Dive Coogee & Manly.
2. Pro Dive will not be responsible for the loss of any Pro Dive Gift Voucher. Security of the Pro Dive Gift Voucher is the responsibility of the purchaser and /or recipient.
3. Pro Dive will not be responsible for fraudulent redemption. When a redemption is made manually we require it to be made available at this time or when checking in for the activity redeemed.
Upgrade or alteration of Gift Vouchers
Pro Dive understand that a Gift Voucher is purchased in good faith, and the recipient may already have completed the service given, under these circumstances Pro Dive will allow the alteration of a Gift Voucher as follows:
1. If at the time of redemption the voucher holder would like to upgrade the voucher to another service, Pro Dive will agree to allow for the upgrade of the service, however any additional cost for this upgrade will be the responsibility of the voucher holder.
2. Pro Dive understand that a Gift Voucher is purchase in good faith and the recipient may be declared medically unfit to engage in the service chosen, please note that if this is the case the terms and conditions of the operator will apply and refunds will be subject to these terms and conditions. All refunds will be made to the purchaser of the voucher
Terms and Conditions of the Service, once the Gift Voucher has been redeemed
Once the Gift Voucher has been redeemed the Terms and conditions of the Service Provider will apply. Please ensure that you make yourself familiar with these terms and conditions. All products on our website www.prodive.com.au clearly state their terms and conditions.