Freedom Quad Mask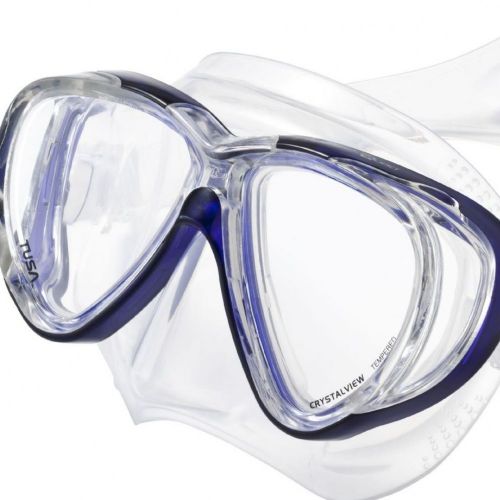 Brand:
Tusa
Category: Masks
More Details
The M-41 Freedom Quad is a low profile 4-window mask that features the revolutionary Freedom Technology delivering superior fit, comfort and performance. The Freedom Quad fitline, lens and frame shape are derived from the popular M-211 Freedom One. The M-41 comes standard with CrystalView Optical Glass lenses and is the first TUSA panoramic view model equipped with Freedom Technology.
In addition to Freedom Technology, the M-41 features TUSA's patented Quick-Adjust Buckle System, 3-D Anatomical Strap, Round-Edge skirt technologies and is available in a black silicone.
FEATURES
>

Low profile 4-window teardrop design


>

Equipped with Freedom Technology


>

CrystalView Optical Glass lenses*


>

Enhanced field-of-view over 2-window masks


>

Skirt mounted Quick-Adjust Buckle System


>

Round-edge skirt for maximum fit and comfort


>

3-D strap for ideal anatomical fit


>

Colors: Black (BK), Cobalt Blue (CBL), Flash Yellow (FY), Translucent (T)


>

Black Silicone: Black/Black (QB-BK), Black/Fishtail Blue (QB-FB)

*Side windows are polycarbonate. Do not use abrasives for cleaning on side windows.

Freedom Technology

Freedom Technology is a set of technologies to enhance fit and performance exclusive to TUSA. Freedom model masks feature a dimpled skirt surface with varied silicone thicknesses and stability ridges in addition to a proprietary low-friction skirt surface on the fitting line.

Read more
---
3D Mask Strap

TUSA's patented 3D Strap is a true three-dimensional design that snugly fits against the head's natural curvature. The 3D strap offers unprecedented comfort and fit, unlike standard flat mask straps.

Read more
---
CrystalView Optical Glass

CrystalView optical glass lenses provide superior clarity, color, and transmission of light over standard glass lenses used by the competition. Up to 15% of available light can be lost with a standard glass lens due to impurities and reflectivity. TUSA's CrystalView lenses transmit up to 95% of available light to the diver for clear crisp vision. CrystalView lenses are used in all PRO models masks.

Read more
---
Panoramic View

Panoramic View masks feature a variety of designs offering an incredibly wide field-of-view. Several designs incorporate minimum frame volumes, domed side-windows, reduced frame structures as well as three and four window styles for maximum vision.
---
Quick-Adjust Buckle System

The Quick-Adjust Buckle System incorporates a newly-designed low-profile buckle. The result is a compact, lightweight, technologically advanced mask design that can be easily and quickly adjusted for a perfect fit.

Read more
---
Round Edge Skirt

TUSA's Round Edge Skirt features a proprietary round edge cross-sectionally shaped skirt. This rounded edge results in a soft fit that suppresses pressure and reduces creasing left on the face. The "planar fit, instead of linear fit" silicone skirt maintains great fit and unprecedented comfort.