Sealife V Boat Package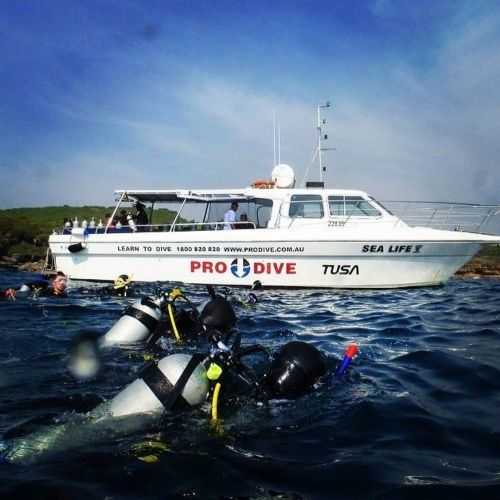 Brand:
PRO DIVE
Category: Boat Dive Packages
Normally: $795.00
From:$495.00
Save 38%
More Details
These packages are incredible value for money and provide you with 12 months of comfortable, quality boat diving around the Sydney coastline.

Buddy pairs are able to share 10 dive packages, a great way to enjoy your diving in an economical way with your dive buddy! Check out the amazing dive prices below, now that's value for our regular divers! Buy today and then book each dive online - so simple!
Standard Boat Dive Inclusions
Experienced Dive Guide
2 SCUBA Dives per trip
Hot and cold refreshments
| | | | |
| --- | --- | --- | --- |
| Package | Normally | Package Price | Saving |
| 10 Double With All Gear | $2,190.00 | $1,646.00 | $544.00 |
| 10 Double With All Gear & Nitrox | $2,370.00 | $1,829.00 | $541.00 |
| 10 Double with No Gear | $1,090.00 | $891.00 | $199.00 |
| 10 Double with Tank and Weight Hire | $1,590.00 | $1,194.00 | $396.00 |
| 10 Double with Tank and Weight Hire + Nitrox | $1,770.00 | $1,374.00 | $396.00 |
| 10 Double with Tank and Weight Hire + Nitrox including Nitrox Course | $1,919.00 | $1,524.00 | $395.00 |
| 5 Double With All Gear | $1,095.00 | $898.00 | $197.00 |
| 5 Double With All Gear & Nitrox | $1,185.00 | $988.00 | 197.00 |
| 5 Double With All Gear including Nitrox Course | $1,334.00 | $1,138.00 | $196.00 |
| 5 Double With No Gear | $545.00 | $495.00 | $50.00 |
| 5 Double with Tank and Weight Hire | $795.00 | $597.00 | $198.00 |
| 5 Double with Tank and Weight Hire + Nitrox | $885.00 | $659.00 | $226.00 |
Boat Packages - Our Simple Terms
Packages are to be paid in full prior to first booking.
Packages are valid for 12 months from date of purchase and are non-transferable and non-refundable.
Buddy pairs may share 10 dive packages, however all names must be registered at time of purchase, there are no additions allowed.
When you redeem the the voucher for each dives the the same terms and conditions as individual bookings apply
Vouchers can be extended for $25 for 3 months