4 Day e'learning Learn to Dive Course in Cairns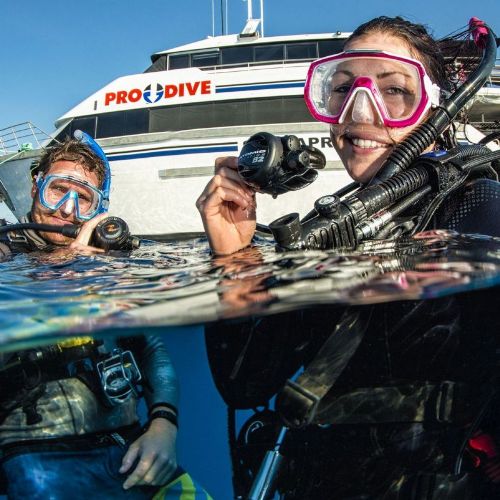 Details
If time prevents you from participating in our popular five-day course, but you still wish to enjoy the liveaboard experience, this four-day course is the perfect option for you. Classroom theory is replaced with online eLearning which can be completed in your own time prior to arriving in Cairns, leaving only one compulsory practical training day at our Dive and Career Development Centre.
The ocean training dives will be conducted as normal during our three-day, two-night liveaboard to the Great Barrier Reef. With warm waters, minimal current and great visibility year round, The Great Barrier Reef is the best place on Earth to learn how to dive.
The four-day course consists of three parts:
After you book, you will receive login instructions for the online eLearning Open Water Course theory. These modules and quizzes must be completed before you arrive in Cairns and start your practical training.
One day of practical training at the Pro Dive Cairns Training Centre.
Three-days and two-nights on an Outer Great Barrier Reef liveaboard trip.

Your practical training is completed at the Pro Dive Cairns Training Centre. Centrally located in Cairns city, the training centre features two heated four-metre deep diver training pools. You'll be learning in comfort and safety with our qualified PRO DIVE instructors. After your day at the training centre, it's time to head out to The Great Barrier Reef for a three-day, two-night liveaboard adventure to become a certified diver!
On The Great Barrier Reef, you will have the opportunity to participate in up to nine dives. The first four dives are training dives, which will complete your PRO DIVE Open Water Certification. After these are completed, you can enjoy five recreational dives, one of which is an exciting night dive guided by your dive instructor. With small student numbers, this is a highly personalised certification course.
Pro Dive Cairns has access to a variety of diving and snorkelling experiences across 19 exclusive Outer Reef dive sites over four magnificent reefs: Flynn, Thetford, Milln and Pellowe Reefs. Diving at different times throughout the day, you will be able to encounter an amazing diversity of marine life including giant clams, sea turtles, stingrays, reef sharks, an incredible variety of tropical fish and spectacular coral formations, with consistent underwater visibility. Night diving will introduce a whole new dimension of nocturnal sea-life.
Between dives, relax in comfort on board one of our three premium Scubapro dive vessels. These purpose-built liveaboard dive vessels feature air-conditioned twin bunk beds or double bed cabins, spacious decks, WiFi, and catered meals. With small passenger numbers and close crew-to-guest ratios, a high-quality, personalised experience with dedicated attention from our specialist staff is ensured at all times.
Terms & Conditions
1. All vouchers purchased online through Pro Dive will either be for a Cash Value or for a Service.
2. All Gift Vouchers will have an Expiry/Validity Date and Gift Vouchers must be redeemed and activity completed by the expiry/validity date.
3.All Gift Vouchers purchased in conjunction with a Special Offer are subject to the conditions of that Special Offer
Changes to Expiry/Validity Date:
Pro Dive, can under special circumstances, grant an Extension of Expiry/Validity Date and an administration fee of $25.00 will apply
Granting of an Extension of Expiry/Validity date by Pro Dive is subject to the following:
1. A redemption date must be nominated at time of extension of the expiry/validity date of the Gift Voucher
2. If the Product or Service has had a price increase when redeemed outside the original expiry/ validity date of the voucher, the voucher holder will be required to pay the difference.
Pro Dive will not be responsible for any changes in the inclusions of the good or service when redeemed outside the original validity date of the voucher. Changes to an expiry/validity date can only be organised by the
Voucher holder contacting Pro Dive on (61) 02 8116 1199.
Redemption of this Gift Voucher
1. Gift Vouchers purchased online, can be redeemed by calling (02) 8116 1199 or directly at the Pro Dive Coogee & Manly.
2. Pro Dive will not be responsible for the loss of any Pro Dive Gift Voucher. Security of the Pro Dive Gift Voucher is the responsibility of the purchaser and /or recipient.
3. Pro Dive will not be responsible for fraudulent redemption. When a redemption is made manually we require it to be made available at this time or when checking in for the activity redeemed.
Upgrade or alteration of Gift Vouchers
Pro Dive understand that a Gift Voucher is purchased in good faith, and the recipient may already have completed the service given, under these circumstances Pro Dive will allow the alteration of a Gift Voucher as follows:
1. If at the time of redemption the voucher holder would like to upgrade the voucher to another service, Pro Dive will agree to allow for the upgrade of the service, however any additional cost for this upgrade will be the responsibility of the voucher holder.
2. Pro Dive understand that a Gift Voucher is purchase in good faith and the recipient may be declared medically unfit to engage in the service chosen, please note that if this is the case the terms and conditions of the operator will apply and refunds will be subject to these terms and conditions. All refunds will be made to the purchaser of the voucher
Terms and Conditions of the Service, once the Gift Voucher has been redeemed
Once the Gift Voucher has been redeemed the Terms and conditions of the Service Provider will apply. Please ensure that you make yourself familiar with these terms and conditions. All products on our website www.prodive.com.au clearly state their terms and conditions.