Apeks Sidemount Starter Package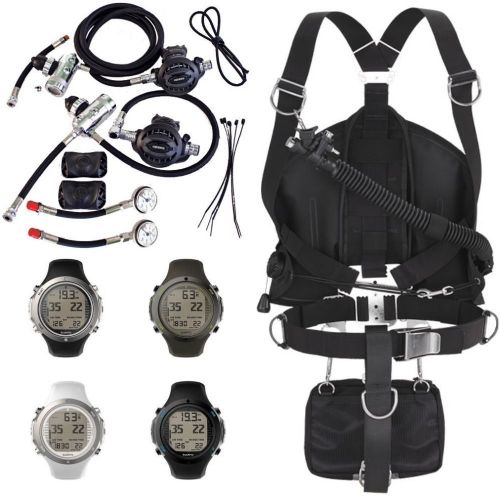 More Details
Side Mount Reg Set
The Apeks sidemount regulator kit delivers the necessary hardware and accessories for sidemount diving, along with two award-winning XTX50 regulators. Everything a diver needs for a sidemount breathing system is found in this kit.
2 ea. DST DIN regulators with 5 port swivel turrets

2 ea. XTX50 second stages (the set can be used with all XTX second

stages). One XTX50 has a 210cm hose. One XTX50 has a 65cm hose

2 ea. 20cm length MP inflation hoses (one for buoyancy system, one for

drysuit)

2 ea. brass pressure gauges with 18cm hoses

1 ea. 90° elbow fitting

1 ea. bungee necklace

1 ea. stainless steel bolt snap

2 sets of short exhaust ports

Regulator bag to hold all

Setup illustration, CD manual and quick start guide
Bladder & Harness
BLADDER:
27lbs lift

Armoguard protects the bladder against abrasions in confined spaces

Reversible inflator can be mounted on left or right side

Grommets at lower corners allow for mounting bungee to keep the bladder

streamlined to your body
HARNESS:
Solid 2" (5cm) webbing comes pre-assembled

Removable crotch strap made of 2" (5cm) soft webbing

4x two inch stainless steel D-rings (2 angled on shoulders, 1 angled and 1

flat on the crotch strap)

2x "SlideLock" sliding stainless steel D-rings on waist strap allow for easy

adjustment of cylinders throughout the dive

2x stainless steel drop D-rings along the lower back are for connection to

the included butt pack, or for marker buoys, reels or other accessories

Heavy-duty waist buckle made of stainless steel

Two-piece stainless steel plate allows the torso length to be adjusted to fit

any diver

Zippered Butt Pack with stainless steel snap hooks included

Weight pouches are mounted on the spine strap

Comes complete with two sizes of bungee and five stainless steel bolt

snaps.

Two grommet strips allow the diver to adjust the weight pouch and bladder

based on their specific requirements.

Additional trim pockets available separately.
Suunto D6i
Steel case and sapphire crystal glass with antireflective coating

Full continuous decompression algorithm - Suunto RGBM

Gas-switching between up to three gases

Five modes: air, nitrox, gauge, free and off

Innovative apnea timer, and a timer in air/nitrox modes

Integrated tilt-compensated 3D digital compass

Updateable firmware

Optional wireless air integration – current cylinder pressure, remaining air time

Built-in dive planner

Detailed graphical logs and dive data on your PC/Mac using Suunto DM5 software
The new refined Suunto D6i Novo is the watch-sized dive computer of choice for those who take their diving seriously. With a tilt-compensated 3D digital compass and wireless air integration, it's a great tool when other people rely on your diving skills. Trusted by professional divers, its good looks make it a great addition to your more civilian wardrobe too.