Overview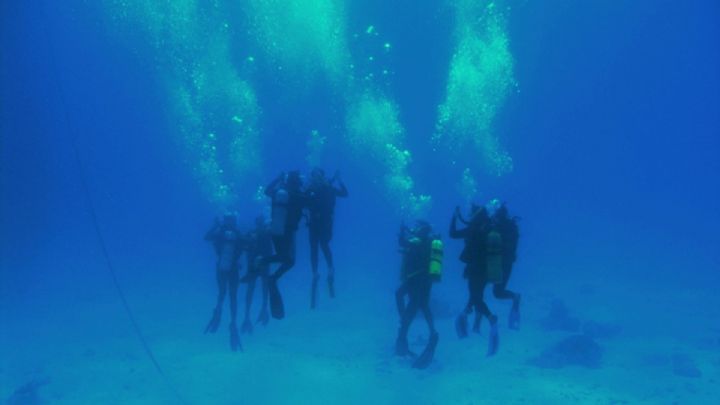 Don't miss the opportunity to dive in one of Australia's most beautiful and unique dive sites. Join us and take the Plunge!
Learn to Dive on Lord Howe Island. Duration: 3 Days
Diving Lord Howe Island
The Dive Season is from September to May. When you dive Lord Howe you are diving the Crossroads of the South Pacific, where the Great Equatorial Current mixes with currents from New Caledonia, Coral Sea, New Zealand and the Tasman Sea. This results in a melting pot of tropical species and southern pelagics. A local census puts the number of fish species at 590 and different corals at 94. Lord Howe hosts the southern most coral reef in the world that fringes along its six-kilomter lagoon- Come and explore some of the 60 different dive sites around Lord Howe Island. Download our Dive Site Guide Here
What you need to know about our Openwater Certification Course
Duration
Our PADI Openwater Dive Course can be completed in as little as 3 days! However, we do realise that you are on holidays and we can tailor the tuition to suit you.
Start Dates
OpenWater Courses are scheduled to start on Mondays. Should this not coincide with your travel dates, there is flexibility to start the course on another day.
ELearning
To minimise the amount of time in the Classroom, you will do all the theory and theory examination on-line as e-learning before you leave home.
Confined Water modules
On Lord Howe you will complete all your practical training straight off the beach in the Lagoon
Ocean Dives 1-4
Your 4 ocean training dives will be done off our boat Explorer 4

| | |
| --- | --- |
| Itinerary | |
| Day 1 1.30pm - 5.00pm | Orientation , Water Skills Assessment, Confined Water Training 1-3 |
| Day 2 9.00am - 4.00pm | Confined Water Training 4-5, Ocean Dives 1 & 2 |
| Day 3 9.00am - 1.30pm | Ocean Dives 3 & 4, Debrief |
What else do you need to know?
Fitness to Dive
Please take time to review the Dive Medical Requirements and Fitness to Dive information.
You will need to be able to swim 200 metres and tread water for 10 minutes.
Web address for the Doctors registered to do the Australian Standards Dive Medical - www.spums.org.au
If you are under the age of 18, or 45 years and older you will need to get a Dive Medical regardless if you have any medical conditions or not.
You must complete an Australian Standards dive medical 4005.1 before arriving on the island for this course.
You will have use of all equipment whilst on course including
Snorkelling gear, wetsuit, buoyancy vest, regulator with alternate air source, bottom timer, tanks, weights and belt are included.
What you need to bring
You need to bring sunscreen, swimmers and a towel.
Minimum age to learn to dive
The minimum age is 12 years. All students under 18 years of age will be required to provide signed parent or guardian consent form. This form is available at the Dive Centre.
Children under the age of 15 must be accompanied by a parent or adult over the age of 18.
Children between the ages of 12 and 14 years will be trained to dive a depth of 12 meters and will qualify as Junior Open Water Divers.
Inclusions
PADI Openwater Certification
PADI E Learning
Use of all equipment - mask, fins and snorkel, 5 mil wetsuit, BCD, regulator with gauges and bottom timers
Tuition - Classroom, Confined Water Sessions
4 Openwater Training Dives from Pro Dive's Day Boat Explorer IV.
PRO DIVE's professional instructor fees
Exclusions
All Candidates are required to bring 3 passport photographs to be used for Certification ID Card and for Pro Dive's on Island records.
Cost of Dive Medical - if required.

Some medical conditions may prevent you from diving. For example: heart disease asthma, epilepsy or diabetes.
Please inform us prior to reservation if you suffer from any medical condition that may affect your diving.
Australian medical standards are different to those overseas. A medical obtained in another country will most likely NOT be valid in Australia.
Pro Dive Lord Howe Island offers the following services
Equipment Hire Department
Tank filling station
Advanced Openwater Course
Discover Scuba Dives
Guided Boat Dives
Guided Snorkel Tours
Please contact travel@prodive.com or call 1 800 820 820 if you require more information
"Established on Lord Howe since 1978"
All arrangements are made through Pro Adventures Pty Ltd t/a PRO DIVE Travel. Travel Agents Lic No. 2TA001452